Sign Language Interpreting Professionals (SLIP) is active in the Deaf and interpreting communities! We strive to be current on trends in the interpreting field and can often be found at conferences and workshops. We like to hear from our clients and are out in the Deaf community as well at social gatherings and the Deaf Club (PAD).
Please check back here often as we will be updating information on public events in the area where we will be providing interpreters. We will also be using this space to update the interpreting community on events taking place (near and far) that can enhance their professional development.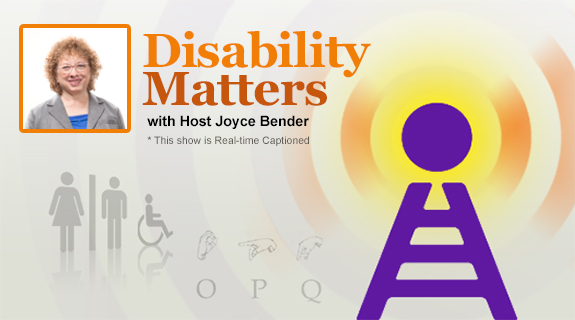 Disability Matters: The COVID Crisis for Sign Language Interpretive Services and Teleworking
Joyce welcomes Danielle Filip, vice president of operations, at Sign Language Interpreting Professionals (SLIP) to the show. Founded in 2003, SLIP provides reliable, consistent and professional communication and consultation services thereby connecting the deaf and hearing communities of Pittsburgh. During the show, Danielle will discuss the services provided by SLIP and ways that businesses and hospitals can assure members of the deaf community that clear communication is provided for them during the COVID-19 pandemic.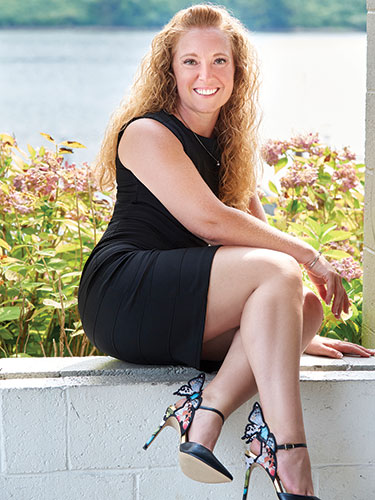 Danielle Filip, Honored as 2021 40 Under 40 Honoree by Pittsburgh Magazine
During the Allegheny County Health Department's COVID-19 briefings, Filip served as an American Sign Language interpreter; she also worked on services specific to senior citizens who are Deaf, arranging vaccine appointments for more than 100 individuals and developing a senior yoga and mindfulness program, to help cope with the loss of friends and family members as a result of COVID-19.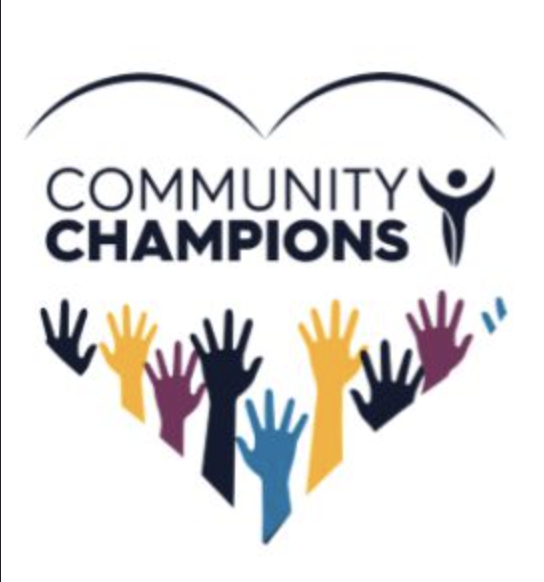 PNRC announces Community Champion for the 2021-2022 Program Season
SLIP has been steadfast in its commitment to meeting the needs of the Deaf community in Pittsburgh since its inception in 2003 but most notably during the last 2 years as we've all combated COVID19. SLIP is run by 3 amazing women who pour their heart and soul into their work. SLIP's VP reminds us that "Communication access is a basic human right" and can be found in the community volunteering her time to ensure access is provided across the spectrum of life's experiences.
"Unspeakable"  is a one-minute video public service announcement charged with bringing awareness to the voices of the Deaf community and their support for the Black Lives Matter movement.
SLIP values community. Every year the Glass SLIP'r Award is presented to a company to recognize their dedication to the Deaf community. To be awarded the Glass SLIP'r Award the business must "GET IT" – they must value communication access and do it because it is the right thing to do, not because the law says they have to. The recipient is chosen by our interpreters and is presented with their very own glass slipper at a recognition ceremony.
We are proud to announce Sarah Stewart is the 2021 Glass SLIP'r Award recipient. Sarah works at UPMC Magee-Womens Hospital and goes above and beyond for the Deaf community there. Thank you, Sarah, for all that you do.  A $250 donation will be made in her name to the GPCCD Kids.
Congratulations, Sarah!
"I don't know if we had anyone who needed [your] services, but I felt so much better having [you] there should that person(s) appear. Our event did not have an RSVP, so a hearing-impaired person could very likely have joined our crowd. I know [the interpreter] was very careful when it came to our COVID-19 restrictions. I deeply appreciate [their] care and expertise."
~ an education system professional
Open to ANY Deaf or Hard of Hearing Child between the ages of 6 and 17. 
May 28th, 2023
PNC Park, Pittsburgh, PA
Free
Come join 90 minute of excitement in health, exercise, and baseball at beautiful PNC Park!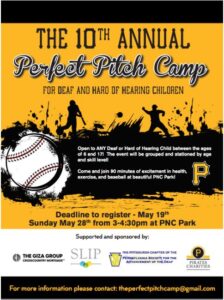 SLIP's 20th Anniversary Ball
Joanne, SLIP's "Queen" has planned a royal black-tie ball.
July 13th, 2023
Fox Chapel Golf Club
By Invitation Only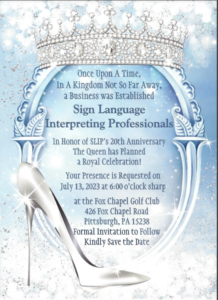 SLIP Family Day
Let's Celebrate 20 Years of the SLIP family!
August 13th, 2023
Hampton Community Park
Alcoa Pavillion
Bring your whole family for a day of fun to celebrate our 20th Anniversary.